The St. Patrick's Day Society started as a group of friends with a simple idea over a decade ago, which has grown into a major event for the City of Wilmington. In 1994, a small group of dedicated community leaders including Joe Farley, Sr., Mike Harkins, and the late Mayor Dan Frawley, wanted to improve the annual celebration of Irish heritage on St. Patrick's Day by creating an event to benefit the local Wilmington community.
They decided to hold an annual communion breakfast. With a combination of fellowship, Irish culture and fundraising, the breakfast has reaped numerous benefits for local citizens over the years. The St. Patrick's Day Society has marked the most important day on the Irish-American calendar by celebrating its culture and reaching out to the greater community. All of the funds raised for the St. Patrick's Day Communion Breakfast are used to support the Center.
Sadly, Mayor Frawley, who was so important in the creation of the event, passed away before the first year. In his honor, the Society established the Daniel Frawley Community Service Award. The honor recognizes individuals or groups whose dedication and service past and present improves the Wilmington community.
The success of the Communion Breakfast fundraiser has had a direct impact on the Center's ability to provide more programs and services to more people.
---
Members
Co-Chairs:
Joseph P. Farley, Jr.
Michael J. Hare
John E. Healy, IV
Shawn Randall
Society Members:
Sean J. Bellew, Esq.
Edward L. Brackin Exec.
Mark T. Brainard
Susan C. Canning
Hon. John C. Carney
Vy. Rev. Norman Carroll, V.F.
John J. Casey
Peter Casey
Dick Christopher
R.T. Christopher, Jr.
William J. Christopher
Michael F. Collins
Tom Conaty, Sr.
Joe Conaway
Timothy Constantine
Jeff Corey
Colleen Healy Corrado
William T. Cowan, DC
Hon. Carl C. Danberg
Jack V. Dolan
Kristin A. Dwyer
Anne Farley
Joseph P. Farley, Sr.
Sean M. Finnigan
Joseph Fitzgerald
Michael D. Fleming
Anthony B. Furey
David Gilefski
Tina L. Hannagan
Michael J. Hare
Michael Harkins
Robert V. A. Harra, Jr.
John E. Healy, III
John E. Healy, IV
Tom Higley
Brian P. Hopkins
Msgr. John P. Hopkins
Kelly Houston Exec.
Dave Ireland
Kevin J. Keegan,CPA
Hon. Helene Keeley
Joseph C. Kelly, Jr. DDS
Tom Kenney
Katherine Klocko Exec.
William J. Kooser
Nancy Walsh Law, Esq.
David F. Lyons, Jr.
Garrett Lyons, DDS
Timothy Lyons Exec.
Molly K. Magarik
Matthew G. Manlove Exec.
Hon. Kathaleen S. McCormick
Michael McDermott, Esq. Exec.
Kira McDonnell
Ryan McDonnell
Brian McGlinchey
Jack McLaughlin
John P. McMahon
Hon. John J. McMahon, Jr.
Gerald M. McNesby
Marilyn Monahan Exec.
Kerri K. Mumford, Esq.
Thomas Nagle
Kevin O'Connell
Brendan O'Neill
Conner O'Rourke
Michael T. O'Rourke
Kathleen Patterson Exec.
Jaclyn Quinn, Esq
Shawn Randall
Mark Reardon, Esq.
Patrick Reilley
Zachery Ryan
Tom Ross
John R. Sheridan, Esq.
Albert Shields
Peter Slattery
Joseph B. Smith, Jr.
Sean Sullivan
Eileen C. Sweeney
Thomas P. Sweeney, Esq.
Hon. William J. Tansey
Brett Taylor
Hon. John "Jack" Walsh
Kim Healy Watson
Joseph L. Yacyshyn
---
The Event
31th Annual St. Patrick's Day Society Communion Mass & Breakfast
30th Annual St. Patrick's Day Society Communion Mass & Breakfast
---
Sponsors
Breastplate
Dublin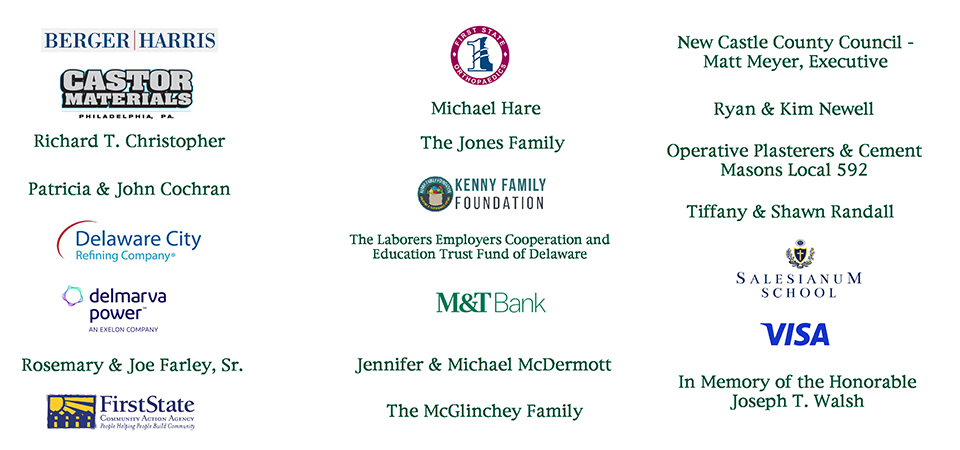 Shamrock
1787 Capital
Black & Grengross , P.C.
R.T. & Liz Christopher
Citizens Bank
Colonial Parking
Comcast
Corrado Construction Company
D'Huy Engineering, Inc.
Delaware Association of REALTORS®
Hon. Anthony Delcollo
Devon Construction
Dewson Construction
Jack V. Dolan – Compass Investment Advisors LLC
Eastern Atlantic States Regional Council of Carpenters
Allison & Joseph Farley, Jr.
Farnan LLP
The Finnigan Family
Peter D. Furness Electric Co
Grain Craft Bar + Kitchen
Graylyn Dental
Tina Hannagan & Kurt Clawson
Linda & Robert Harra, Jr.
Healy, Long & Jevin , Inc
Kevin & Marian Healy Family
Jennifer & Brian Hopkins
J.D.M. Materials Co.
Cindy & Kevin Keegan
Hon. Helene Keeley
Michael & Ellen Kullman
LaFrance Corporation
The Honorable Bethany Hall Long – Lt Governor
Lyons Companies
Matthew & Meghan Manlove
The Manlove Family
Maxim Crane
John & Lisa McMahon
Morris, Nichols, Arsht & Tunnell
Kerri K. Mumford
O'Rouke Investigative Associates, Inc.
Peri Framework Systems
Michael Petrillo – Heritage Concrete
PNC Bank
PSE&G Nuclear, LLC
Hon. Michael S. Purzycki Mayor, City of Wilmington
Jerry & Carol Rainey
Mark L. Reardon – Eckert Seamans
Elaine & Michael Reilly
Re-Steel Supply
Susan & Justin Ryan
Rita & Thomas P. Sweeney
WSFS Bank
Emerald
Albero, Kupferman & Associates, LLC
Artesian Water
Bancroft Construction Co.
Barnes & Thornburg LLP
In Memory of Beau Biden
The Brackin Family
The Buccini Pollin Group, Inc.
ByrdGomes
The Canning Family
Michael Canning, Sr.
Rosemary Scanlon Canning
Capriotti's
The Honorable John Carney, Governor
Carper for Senate
Cole Schotz PC
Mike Collins & Family
José M. Colón
Columbus Inn
Joann & Joe Conaway
Joan, Chip & Kate Connolly
Tim & Noreen Constantine
U.S. Senator Christopher A. Coons
Delaware Building & Construction Trades Council
Delaware Park
Delaware State Education Association
Delaware Technical & Community College
Delle Donne & Associates
Mike Deptula ABHA Architects
DSM Commercial
Dynamic Remodel
EDiS
Anne Farley
Michael Farr
Fitzgerald Consulting, Inc.
In Memory of Colin Flaherty
Christy & Mike Fleming
Gatti Morrison Construction Service
Green Dreams Landscaping
Helen & Mike Harkins
In Memory of Renee Hendrickson
State Representative Kevin Hensley
Joe & Kathleen Hickey
Hogan McDaniel
IBEW Local 313
InfoVest
INTECH Construction
Irish Culture Club of Delaware
Donna & Gene Julian
Katie Keegan
In Memory of Hubert & Margaret Kenney
In Memory of Hugh Kenney
Michael Kozikowski , NCC Recorder of Deeds
Landis, Rath & Cobb
Ray & Nancy Lyons
Maraleta & Jack Malloy
State Senator Sarah McBride
McCarter & English
In Memory of Michael P. Kelly
Kira & Ryan McDonnell
Friends of Kathy McGuiness
John J. McMahon
In Memory of Michael
McNesby & John Bonk
Marilyn Monahan
Bill Morgan & Judy Matz
Morris James LLP – Personal Injury Group
Vijay Nathan
Martin Norton United Rentals
Kevin & Marilyn O'Connell
Thomas J. & Anita L. Olsen
P.J. Fitzpatrick, Inc.
Kathleen & Timothy Patterson
Payroll Management Assistance
State Senator Nicole Poore
Precision Color Graphics
Preferred Electric, Inc
Republican State Committee of DE
Rob Houston Photography
Congresswoman Lisa Blunt Rochester
Ronald W. Peacock, Inc.
Hon. Pete C. Schwarzkopf, Speaker of the House
John R. & Barbara B. Sheridan & Family
Siegfried Advisory
Six Paupers | Ulysses
James Spadola
Ken Stewart
Dr. Peter Subach
Sean Sullivan
Leo John & Eileen Claffey Sweeney
Maria Taylor
Tile Market of Delaware
Tri Supply & Equipment
Trinity Health Mid-Atlantic
Ann Fleming & Fran Trzuskowski
U.S. Lumber, Inc.
Senator Jack Walsh
Loretta Walsh
Ward & Taylor LLC
Wharton Hardware & Supply
Wilmington City Council, Ernest "Trippi" Congo, President
Henry Winchester
Celtic
Ryan & Danielle Burke
Roger Componovo, MD
John Gregory Fleming

Derek Kahn
MilliCare Carpet & Textile Care
Joseph Smith

Supercritical Fluid Technologies
Dr. Jack P. Varsalona
Jack & Francie Young